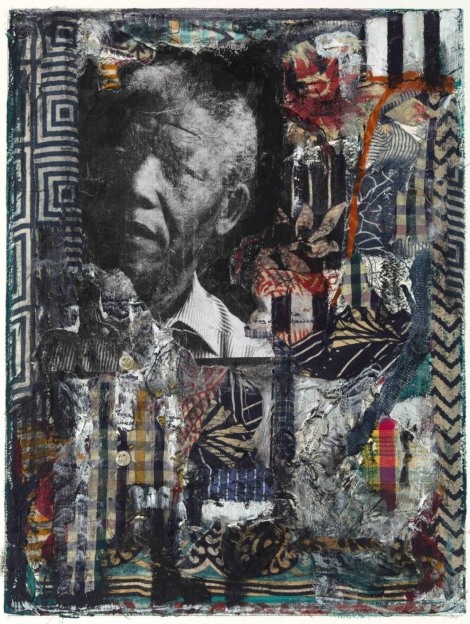 Peter Sacks in Los Angeles Review of Books
21 December 2022
The Los Angeles Review of Books reviews "Peter Sacks: Resistance" at the Rose Art Museum, Brandeis University.
Isabel Ruehl writes, "Sacks has created 140 portraits and counting. Always the texturing and distressing within his canvases are allusive. Some, like Gandhi's portrait, are balanced and centered, communicating stability and peace. More often the figure is off-center or bursting from the frame. Some, like Paul Celan's, are slightly obscured by their surroundings, so that the viewer needs to work to see. Other canvases, like Sojourner Truth's, are burned and painted over: a nod to Truth's famous Indiana rally of 1863 in which Southern sympathizers threatened to burn down the hall where she was scheduled to speak.

When you enter and exit Resistance at the Rose Art Museum, there is another canvas by Sacks, from 2019, hanging to the left of the door. 'Without Name' is layered, ripped, and burnt, with blue, red, and yellow fabrics streaking through heavy-painted lace and ridged cardboard. The work is inscribed with a quote by Walter Benjamin that addresses the 88 faces across the room: 'It is more arduous to honor the memory of anonymous beings than that of the renowned. The construction of history is consecrated to the memory of the nameless.' 'Then I will speak upon the ashes,' Truth once said, which is exactly what Sacks's portraits achieve: they speak upon the ashes, invoking their viewers, all of us nameless, as a part of this history too."
Read the full review at the below link.